The GroeiGids app is a part of the GroeiGids platform, that aids Dutch parents (to be) with the development, health and upbringing of their children. In collaboration with Eaglescience software, the GroeiGids app has been (re)developed. In the app, parents can track length, weight and all important milestones in one place as well as receive tailor made information regarding their children's development.
The GroeiGids booklet has been around for many years and is used by GGD's (municipal Health Services) an youth health organisations to support parents with information regarding their children's development from pregnancy to adulthood.

The existing GroeiGids app already had a big user base (100.000+ users). In user research performed by an external partner it was pointed out that parents liked the app because of the ease of tracking growth and weight, the personalised messages as well as being able to save milestones and memories in the growth path. However, UX research also showed that parents faced difficulties regarding navigation, ease of use as well as accessibility. With a growing user base it was necessary to redevelop the existing app to make sure the GroeiGids platform and app is ready for the future.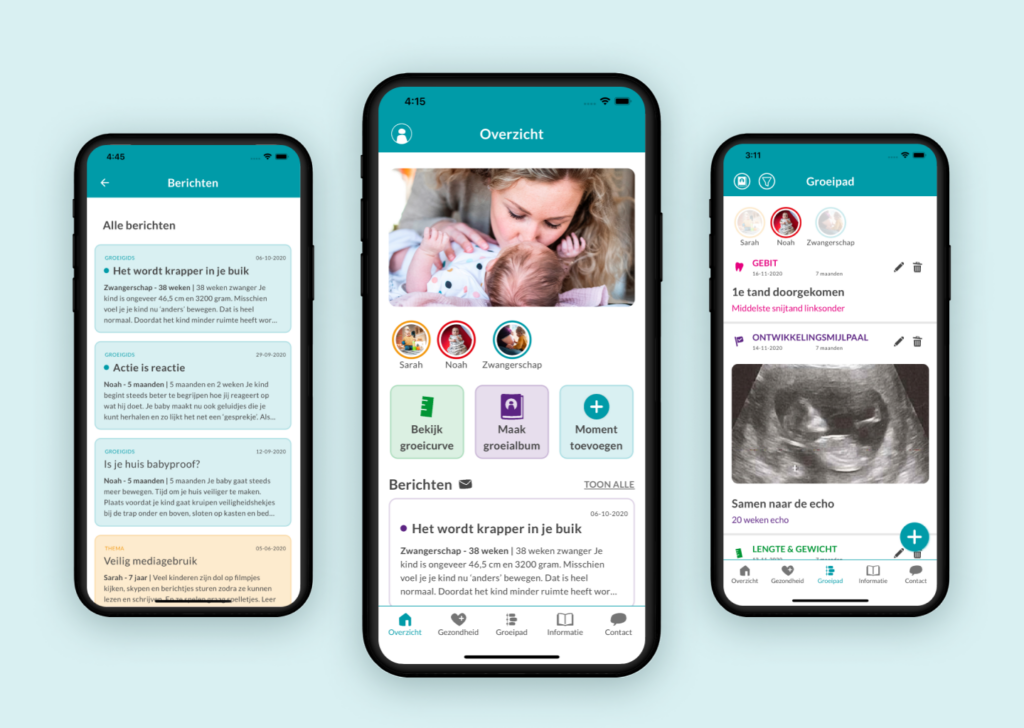 Improve the GroeiGids app and make it future-proof
In a series of brainstorms we explored different ideas to improve the GroeiGids app and to make it even better for parents. We've explored different themes:
Usability and easy navigation
Improve navigation in a navigation bar with intuitive icons and clear labels.
Adding a dashboard with short-cuts to the most important functionalities of the app such as; adding milestones, viewing growth charts and creating a growth journal.
Implement a user-friendly onboarding process to guide parents through the app's feature.
Enable personalisation options, allowing parents to add photo's and colours to customise the app.
Accessibility and Inclusive Design:
Optimise the app for B1 language level, making it easy for users with lower literacy skills to understand: For all parents.
Enhance contrast and color schemes to improve visibility to meet Web Content Accessibility Guidelines (WCAG).
Long term engagement for parents:
Offer personalised messages tailored to each child's developmental milestones.
Provide relevant and engaging content, such as information and a chat function with a Youth nurse to keep parents informed and involved.
Technical and Stability solutions:
EagleScience implemented various techniques to enable an efficient and robust structure. By using multiple microservices, for example for emails and notifications enable scalability of the platform.
By implementing these ideas, we can enhance the usability, accessibility, stability, and long-term engagement of the GroeiGids app while infusing an element of fun and enjoyment into the overall user experience.
Wireframes & click-model
As an outcome of the brainstorms we translated the ideas to wireframes, this enabled GGD Amsterdam to do preliminary user validation. The click model prototype allowed users to go through the app, which gave us insights to refine the app before the app was even build
After we finalised the wireframes, we worked on the design, taking WCAG guidelines into account.
Even today (2023) the outcomes of the brainstorms and wireframes (developed in 2019), give input to the development roadmap and new features.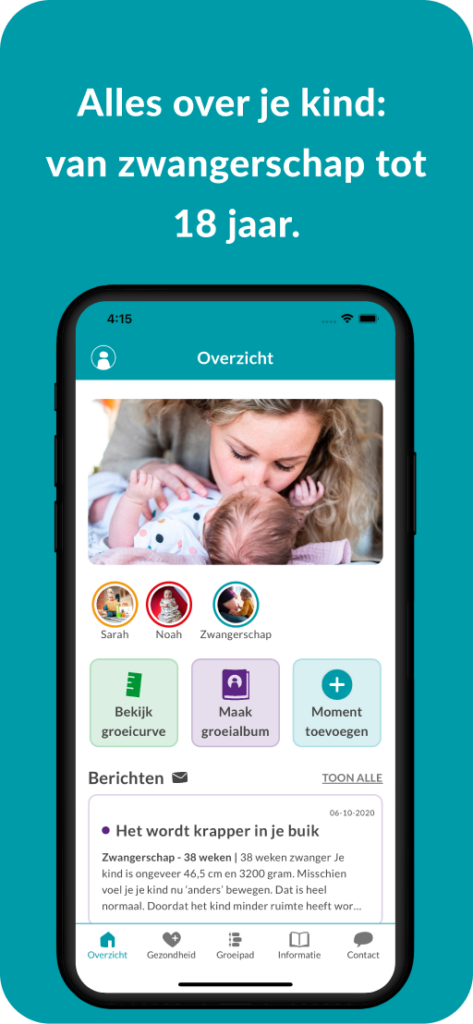 Get the app:
---
Client
GroeiGids (GGD Amsterdam) via EagleScience software